Regular price
$4.99 USD
Sale price
$3.99 USD
Unit price
per
Sale
Sold out
Share
Cedar Woods Mystery #1
Buy from the Anne's website and support the author. Purchase and read immediately via a Book Funnel link.
Also available at Anne's PayHip store.
BUY FROM RETAILERS
This book is also available at all major retailers and public libraries.
BOOK DESCRIPTION
My name is Cedar Woods, and I am a recovering ostrich. I have the unfortunate habit of burying my head in the sand. Newly divorced and penniless, I am cleaning my friends' fancy McMansions to make ends meet while lawyering up for a financial audit on my ex-husband's tech company.
When my Aunt Coco fell and broke her hip, I hightailed back to Mirror Falls. But things took a bizarre turn when I found out my Chinese aunt thought her new corgi was her husband's reincarnated spirit, and she took the dog's financial advice to invest her retirement money into a tea shop. Is she losing her mind, or am I being punished by my ancestors?
To make matters worse, a rival shop owner turns up dead, and Aunt Coco becomes the prime suspect. With the help of newfound friends, I must shift through the town's secrets to exonerate my aunt and prepare the tea shop for its grand opening. But with a vicious murderer on the loose, I might be in over my head. Can I catch the killer before someone else gets hurt? Will I find the home I spent my entire life searching for?
This humorous cozy mystery will charm readers with its endearing characters, heartwarming family relationships, and an intriguing whodunit that will keep readers guessing until the end. Grab your copy and join the fun.
View full details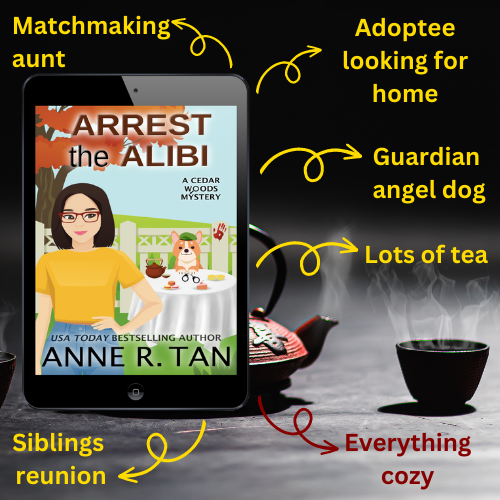 EBOOK EDITION

This eBook is delivered instantly by a Book Funnel email. Book Funnel provides the technical support to load the file(s) to your device. You will get the ePub and mobi files. You can load these file(s) into your device or use the Book Funnel app for reading.

RETURNS

For ebooks and audiobooks are instant downloads. No refunds. Please choose carefully.

Refund Policy
Love Cedar Woods
Anne R. Tan has another winner with this new series. Cedar Woods is unwittingly lured back home by her Chinese aunt when her life has hit rock bottom. Humorous, well plotted, likable quirky characters, and a corgi - what's not to like. Treat yourself to this enjoyable experience.
Fantastic start to another great cozy mystery series
Anne R. Tan has done it again! She kept me captivated and living in the world of these lovable characters for the duration of the book. I never want to put her books down and am almost sad when I am done reading. I can't wait for the next book! The characters' adventures in this cozy mystery will keep you guessing and keep your attention. Some humor sprinkled in will have you loving this story line and wanting for more. I don't want to spoil it, but I know I am waiting to see if a romance might develop…
A fun cozy mystery with a Chinese-American angle.
When Cedar Woods is dumped by her husband and goes from riches to rage cleaning a friend's toilet she is told her Aunt Coco has broken her hip and returns to her hometown. Having arrived she finds Aunt Coco is opening a tea shop and is a suspect in a murder. She also finds that Aunt Coco believes her new corgi, named General, is really her deceased husband Uncle Gabriel. Unsure how sane her Aunt is, Cedar goes into detective mode. With a great cast of characters, a wonderful plot, fun setting, and humor the story plays fair with the reader and it is possible to find out whodunit. The book is re-readable and just as enjoyable the second time as it was the first. I highly recommend the book and even though I got an advanced reader copy I bought the book to support the author's work.
Fantastic read
Totally enjoyed this book. From interesting beginning to the very end. Want to read more about the characters.
LOVE LOVE LOVED this book!
Arrest the Alibi written by Anne R Tan. This is a fun cozy mystery that includes your favorite kind of crazy… the crazy Aunt trying to make the niece come and stay for a while. Even if they have to lie… Aunt CoCo is a sneaky old gal who I would love to visit with! She seems to have a crazy story about just about every situation that gets thrown her way, and she loves to impart her wisdom on the needy! CeCe is now in town and trapped into helping to solve a murder so someone she loves isn't going down for it. It would make a GREAT MOVIE, just saying!